Regular price
₦2,401,110.00 NGN
Regular price
₦2,650,500.00 NGN
Sale price
₦2,401,110.00 NGN
Unit price
per
Sale
Sold out
Product Warranty

How  LG, Hisense & Popular Brands Warranty work.

Have you ever purchased a product and suddenly there is an issue and you become confused not knowing what to do?

Here is where the warranty comes into play.

What is a Warranty?

A warranty is a type of guarantee that a manufacturer makes regarding the condition of its product. Various brands offer different types of warranties ranging from 3months to even 10years depending on the item. Depending on the warranties, the manufacturer can either Repair it or replace it for you free of charge.

Alabamart products all comes with the manufacturer's warranty. Here is another reason why buying from us gives you even more value for your money. Let's look at the various popular brands and how their warranty works.

 

LG:

 

 

 

LG Electronics provide a period of Twenty-Four (24) months or Two (2) years warranty on its products. And warranties are limited to the country of purchase.

Warranty proof:

The Sales Receipt or Purchase Invoice showing the date of purchase of the Product is the proof of date of Purchase. Customers may be asked to furnish proof of ownership and date of purchase by showing sales receipt/purchase invoice. LG reserves the right to refuse warranty service if this information has been removed or modified after the original purchase of the Product.

NOTE: Servicing will be provided free of charge during the normal business hours and under safety conditions and circumstances for the period specified above from the date of purchase.

Warranty Contact Point
If, during the warranty period, this product fails to operate under normal use, the customer should return back the unit to LG Electronics Authorized Distributors or Service Partners, in the country/region where the product has been purchased from, or to the nearest contact points (pick up & drop off) mentioned by the Authorized Distributor. For more information regarding the Authorized Service Center or contact points, please refer to the Customer Service contact point mentioned in the warranty card.

In Warranty Terms and Conditions


1.The proof of date of Purchase is the Sales Receipt or Purchase Invoice showing the date of purchase of the Product. Customers may be asked to furnish proof of ownership and date of purchase by showing sales receipt/purchase invoice. LG reserves the right to refuse warranty service if this information has been removed or modified after the purchase of the Product.

2.The warranty does not cover product failures caused by installations, modifications, or repair or opening of a product performed by a non-LG Authorized person.

3.The warranty does not cover product failures that have been caused by use of accessories or other peripheral devices which are not LG branded original accessories intended for use with the product.

4.If LG Electronics repairs or replaces the product, the repaired or replaced product shall be warranted for the remaining time of the original warranty period or for ninety (90) days from date of repair, whichever is longer.

Out of Warranty Terms and Conditions:
LG warranty is only applicable for defects in product material, design and workmanship. It does not cover the following:

1.Period Checks, maintenance, repair and replacement of parts due to normal wear and tear, corrosion, rust, stains, scratches, dents on the body or casing or paintwork of the appliance.

2.Damage or malfunction caused by improper or incorrect installation, poor or inadequate maintenance, or use or operation of the appliance otherwise than in accordance with the manufacturer's instructions.

3.Damage or malfunction caused by the act or acts of any person or persons intentional or otherwise, including but not limited to misuse or mishandling, fire or any natural disasters.

4.Un-authorized modifications carried out for the product to comply with local or national technical standards in countries for which the LG product was not originally designed.

5.Any Damage caused by excessive use, overcharging or failure to use in accordance with the specific instructions of care outlined in the product manual.

6.Defects or fault in appliances which have been used for commercial purposes or which have been rented/ leased or which have been otherwise subject to other than household use.

7.The model, serial/IMEI No. and product number on the product has been altered, deleted, removed or made illegible.

8.Tampering of appliance or undergoing repair, adjustment or servicing by persons other than those authorized by LG Electronics.

9.Any damage to property arising or in connection with the use of appliance or any malfunction or defect in the appliance.

10. LG recommends that separate permanent written records be kept of all important data. Data may be lost or altered in virtually any electronic memory product under certain circumstances. Therefore, LG assumes no responsibility for data lost rendered unusable whether as a result of improper use, repairs, defects, battery replacement, use after the specified battery life has expired, or any other cause.

11. This 2 years warranty does not cover ,accessories, computer accessories, like ( Brackets, HDD, USB, DVD-BD writers, Glasses )

 

 

HISENSE:

All Hisense products comes with a one (1) year warranty from the date of purchase. And warranties are limited to the country of purchase.

 

Warranty Terms and Conditions

A. What your warranty covers:

1.Proof of purchase is required before you can make a claim under this warranty; you must provide both your original purchase receipt and your warranty card to obtain full benefits.

2.The product bought from Hisense Registered Distributors (Alabamart). shall have a one ( 1) years warranty from the date of purchase.


B. What your warranty does not cover:

1.If being used for commercial purpose as hiring of the equipment

2.You may not make a claim under this warranty unless the defect claimed is due to faulty or defective parts or workmanship error. Notice of the alleged defects must be given promptly upon discovery. Hisense is not liable in the following situations:

(a) The Appliance is damaged by:

1.Accident

2.Misuse or abuse, including failure to properly maintain or service

3.Normal wear and tear

4.Power surges, electrical storm damage or incorrect power supply

5. Incomplete or improper installation

6.Incorrect, improper or inappropriate operation

7.Natural calamities such as fire,lighting,flood,rain etc....

(b)The Appliance is modified without authority Hisense Authorized Distributors . in writing.

(c)The Appliance serial number or warranty seal has been removed or defaced.

(d) The Appliance has been serviced or repaired by anyone other than Hisense. or its Authorized Services Centers.

3.Physical damage to the unit during transit from the store, after purchase of the product (i.e. Out of the physical place of purchase).

4.The relocation or reinstallation and set up of the product.

5.Gas charging for Air conditioners and Refrigerators.

6.Damage to the unit due to insufficient, unsuitable or inadequate packaging or care.

7.The travelling and transport costs; if the product is situated outside cities that service center is available.

8.If the warranty card is altered, defaced or erased in any manner whatsoever.

9.. Filter cleaning Service for Air Conditioners.

 



MAXI:

 

 

All Maxi products comes with a one (1) year warranty from the date of purchase. And warranties are limited to the country of purchase.

Warranty Terms and Conditions

A. What your warranty covers:


1. Proof of purchase is required before you can make a claim under this warranty; you must provide both your original purchase receipt and your warranty card to obtain full benefits.

2.All Maxi products bought from Maxi Authorized Distributors (Alabamart) are under 1 year warranty, except maxi generator and maxi remote under 3 months warranty .

3. Warranty will cover repair related to products defect only, there shall be no product replacement

B. What your warranty does not cover:

1. If being used for commercial purpose as hiring of the equipment

2. You may not make a claim under this warranty unless the detect claim is due to faulty or defective parts or workmanship error. Notice of the alleged defects must be given Promptly upon discovery. Maxi Authorized Distributors (Alabamart). is not liable in the following situations;

(a) The Appliance is damaged by:

1. Accident

2. Misuse or abuse, including failure to properly maintain or service

3. Normal wear and tear

4. Power surges, electrical storm damage or incorrect power supply

5. Incomplete or improper installation

6. Incorrect, improper or inappropriate operation

7. Natural calamities such as fire, lighting, flood, rain etc.

(b) The Appliance is modified without authority from Maxi Authorized Distributors (Alabamart). in writing.

(c) The Appliance serial number or warranty seal has been removed or defaced.

(d) The Appliance has been serviced or repaired by anyone other than its Authorized Services Centers.

3. Physical damage to the unit during transmit from the store, after purchase of the product (i.e. Out of the physical place of purchase).

4. The relocation or re-installation and setup of the product.

5. Damage to the unit due to insufficient, unsuitable or inadequate packaging or care.

6. The travelling and transport costs; if the product is situated outside cities that service center is available.

7. If the warranty card is altered, defaced or erased in any manner whatsoever.

 

 

 Scanfrost:

 

 

All Scanfrost products comes with 1 - 10 year warranty depending on the product category and from the date of purchase. All warranties are limited to the country of purchase.

 

Warranty Terms and Conditions

 

What your warranty covers:

 

1.Proof of purchase is required before you can make a claim under this warranty; you must provide both your original purchase receipt and your warranty card to obtain full benefits.

 

2.The product was bought from Scanfrost Registered Distributors (Alabamart). shall have:

a 1-year warranty for small appliances and water dispensers

2 years warranty for Tv, cookers and washing machine 

3 years warranty for freezers

5 years warranty for Air conditioners and a 10 years warranty for inverter freezers

 

What your warranty does not cover:

 

1.If being used for commercial purpose as hiring of the equipment

 

2.You may not make a claim under this warranty unless the defect claimed is due to faulty or defective parts or workmanship error. Notice of the alleged defects must be given promptly upon discovery. Scanfrost is not liable in the following situations:

 

(a) The Appliance is damaged by:

 

1.Accident

 

2.Misuse or abuse, including failure to properly maintain or service

 

3.Normal wear and tear

 

4.Power surges, electrical storm damage or incorrect power supply

 

5.Incomplete or improper installation

 

6.Incorrect, improper or inappropriate operation

 

7.Natural calamities such as fire, lighting, flood, rain etc....

 

(b)The Appliance is modified without Scanfrost Authorized Distributors in writing.

 

(c)The Appliance serial number or warranty seal has been removed or defaced.

 

(d) The Appliance has been serviced or repaired by anyone other than Scanfrost. or its Authorized Services Centers.

 

3.Physical damage to the unit during transit from the store, after purchase of the product (i.e. Out of the physical place of purchase).

 

4.The relocation or reinstallation and setup of the product.

 

5.Gas charging for Air conditioners and Refrigerators.

 

6.Damage to the unit due to insufficient, unsuitable or inadequate packaging or care.

 

7.The traveling and transport costs; if the product is situated outside cities that service center is available.

 

8.If the warranty card is altered, defaced or erased in any manner whatsoever.

 

9.. Filter cleaning Service for Air Conditioners.

Last Updated 20th February 2023
Shipping Policy

We ship items out as soon as possible, matter of fact if you can confirm your payment before 12pm on any working day in the following Cities, Lagos Mainland, Lagos Island, Abuja, Kano, Asaba, Jos, Ibadan, port Harcourt, Benin, Warri, Kaduna, Uyo Chances are that you will receive Same day 🚛  and this is why our Customers Love us.

However, we do have our Slow days so Please allow 2-3 business days for processing time. 

If you have any questions about the lead time on a specific item, please contact us at info@Alabamart.com with your questions.

You should receive an email confirming your order shortly after you've placed it. 

If you don't receive that email, please check your spam folder and see if you can locate it. 

This is especially important because if you haven't received the order confirmation email, you also won't receive the email with your shipment notification.

Alabamart ships to your Doorstep Nationwide. Please note that you, the buyer, are NOT responsible for any VAT, tariff, duty, taxes, handling fees, etc.

All orders made from Alabamart Store should be signed upon delivery, therefore please plan accordingly.

Alabamart Nigeria Limited will be closed on public holidays and Sundays. Orders will not be shipped on those days, but you can still order through the website as usual.

 

LATEST UPDATE: DECEMBER 12th, 2022
Return & Refund Policy

 

Thanks for shopping at Alabamart.com

If you are not entirely satisfied with your purchase, we're here to help.

 

Returns:

You have to check the item before signing the delivery note.
You have 24 hours to return an item from the date you received it.
To be eligible for a return, your item must be unused and in the same condition that you received it.
Your item must be in the original packaging and in re-saleable condition.
Your item needs to have the receipt or proof of purchase.
You will be responsible for paying for your own shipping costs for returning your item. Shipping costs are non refundable. you will be responsible for delivering the items to the pick up point, the pickup point will be determined by Alabamart Nigeria Limited.

Alabamart Nigeria Limited will not initiate refund/replacement for:

Any product that exhibits physical damage to the box, packaging, tags or to the product.
Any product that is returned without all original packaging and accessories, including the retail box, manuals, cables, and all other items originally included with the product at the time of delivery.
Any product without a valid, readable, untampered serial number, including but not limited to products with missing, damaged, altered, or otherwise unreadable serial number.
If you receive a refund, the cost of return shipping will be deducted from your refund.

How do I return my order?

Kindly send a request to info@alabamart.com. After confirming your return request, Our team will respond to your request and guide you to the next pickup point.

Once we receive your item, we will inspect it, and If your return is approved, we will initiate a refund to your account.

 

Cancellation Policy

 

You can only cancel your order when the order is still in processing status. Only cancellation request made by the means of sending a request to info@Alabamart.com be acknowledged. We do not acknowledge any cancellation requests by other means, i.e. through call.

 

LATEST UPDATE: DECEMBER 12th, 2022

 
Minimize cool air loss by 55%*
3 Door SBS
Store and organize your food more efficiently for the ultimate convenience. The 3-door, side-by-side (SBS) refrigerator has two fridges and one freezer. With its upper and lower fridge, it minimizes cool air loss by 55%, so you can save energy. And everything can be kept well organized.
* Tested by intertek to Samsung internal test method.
** The verification of reduction of cool air loss achieved through the energy consumption test, when opening the upper/lower fridge door of RS65R56*1**, RS63R55*1** compared to fridge door of RS50N35*3**, RS50N36*3**.
Perfectly harmonious and stylish design
Sleek & Seamless Design
Give your home a stylishly integrated and modern look. Its sleek and seamless counter-depth design will fit perfectly with the dimensions of your existing appliances and cabinetry to create a harmonious kitchen interior. It also has beautiful flat doors with recessed handles that don't protrude.
Holds in the cold for lasting freshness
Metal Cooling
Keep your food fresh, even if you frequently open and close the door. The Metal Cooling duct in the rear wall helps to maintain the optimal internal temperature. It retains the cold and prevents the loss of cool air when the door is open. And it quickly restores any heat loss when it's shut again.
Fast cooling and freezing on demand
Power Cool / Power Freeze
Enjoy a rapid cooling performance. At the touch of a button, Power Cool blows intensely cold air into the fridge to quickly cool your groceries or favorite drinks. And Power Freeze delivers a fast blast of cold air into the freezer. It's great for freezing or firming up frozen food and making ice.
Easily find and reach food at the back
EZ Slide Shelf
Organize, put in and take out food more easily, so there's no 'dead space', with the EZ Slide shelf. It is built on rolling hinges and simply slides in and out. So you can easily find and reach things at the back and in the corners without having to navigate through an obstacle course of items.
More ice, more freezer storage space
Slim Indoor IceMaker
Create more space to store more food, but still have enough ice with a Slim In-door Ice Maker*. As it's built into the door, it gives you extra storage by freeing up freezer shelf space, but can make and store plenty of ice. And its transparent plastic cover lets you easily see how much is left.
* Available on 3 door non-dispenser model only.
Neatly store more of your favorite wine
Wine Rack
Organize and neatly store more wine. A Wine Rack is designed to safely store bottles of wine, so they don't roll around and are easy to reach. It can be installed in either the upper or lower fridge compartments. So you can easily enjoy a glass of deliciously chilled wine whenever you like.
Odor eliminator maintains natural flavor
Deodorizing Filter
Keep the inside of the refrigerator deodorized and preserve the original flavor and aroma of food for longer. The built-in natural fiber Deodorizing Filter eliminates strong smells as the air is continually passed through activated carbon filters. So here's no need for other odor fighting solutions.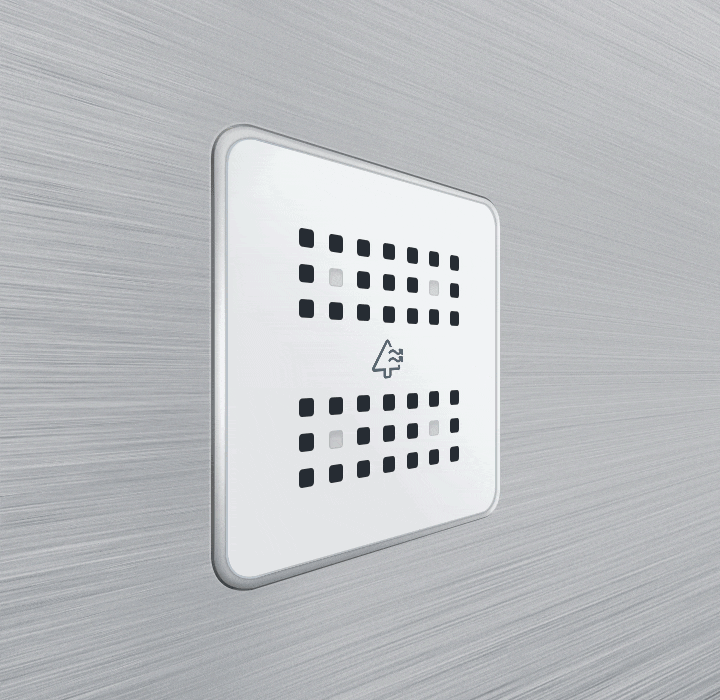 Easily store more vegetables & fruit
Vege Box
A large capacity Vege Box provides a convenient space to store a large amount of fresh vegetables and fruit. And because it's so big it's much easier to find everything, as they're all in one place and easy to get to, so you can enjoy them more often without taking up valuable kitchen space.
Share
View full details
Alabamart Express | Receiver Order Faster!

Enjoy Free Shipping on Alabamart as well as Express shipping services to match your needs.

Shipping Policy

Aftersales & Installation

We Offer Aftersales and Installations for Air Conditioners (Commercial, Industrial & Private), Televisions, Washing Machines, Furnitures Cookers and Lots of other things.
Alabamart Customers are Happy Customers ! 👇🏽 👇🏽
Enjoy the Good Lifestyle on Alabamart.
No #1 Home & Kitchen Appliances Online Store in Nigeria with Amazing Discounts on Quality & Affordable Appliances, We offer Installation Services and Product Warranty on all products.