Regular price
₦1,559,500.00 NGN
Regular price
₦1,600,500.00 NGN
Sale price
₦1,559,500.00 NGN
Unit price
per
Sale
Sold out
Product Warranty

How  LG, Hisense & Popular Brands Warranty work.

Have you ever purchased a product and suddenly there is an issue and you become confused not knowing what to do?

Here is where the warranty comes into play.

What is a Warranty?

A warranty is a type of guarantee that a manufacturer makes regarding the condition of its product. Various brands offer different types of warranties ranging from 3months to even 10years depending on the item. Depending on the warranties, the manufacturer can either Repair it or replace it for you free of charge.

Alabamart products all comes with the manufacturer's warranty. Here is another reason why buying from us gives you even more value for your money. Let's look at the various popular brands and how their warranty works.

 

LG:

 

 

 

LG Electronics provide a period of Twenty-Four (24) months or Two (2) years warranty on its products. And warranties are limited to the country of purchase.

Warranty proof:

The Sales Receipt or Purchase Invoice showing the date of purchase of the Product is the proof of date of Purchase. Customers may be asked to furnish proof of ownership and date of purchase by showing sales receipt/purchase invoice. LG reserves the right to refuse warranty service if this information has been removed or modified after the original purchase of the Product.

NOTE: Servicing will be provided free of charge during the normal business hours and under safety conditions and circumstances for the period specified above from the date of purchase.

Warranty Contact Point
If, during the warranty period, this product fails to operate under normal use, the customer should return back the unit to LG Electronics Authorized Distributors or Service Partners, in the country/region where the product has been purchased from, or to the nearest contact points (pick up & drop off) mentioned by the Authorized Distributor. For more information regarding the Authorized Service Center or contact points, please refer to the Customer Service contact point mentioned in the warranty card.

In Warranty Terms and Conditions


1.The proof of date of Purchase is the Sales Receipt or Purchase Invoice showing the date of purchase of the Product. Customers may be asked to furnish proof of ownership and date of purchase by showing sales receipt/purchase invoice. LG reserves the right to refuse warranty service if this information has been removed or modified after the purchase of the Product.

2.The warranty does not cover product failures caused by installations, modifications, or repair or opening of a product performed by a non-LG Authorized person.

3.The warranty does not cover product failures that have been caused by use of accessories or other peripheral devices which are not LG branded original accessories intended for use with the product.

4.If LG Electronics repairs or replaces the product, the repaired or replaced product shall be warranted for the remaining time of the original warranty period or for ninety (90) days from date of repair, whichever is longer.

Out of Warranty Terms and Conditions:
LG warranty is only applicable for defects in product material, design and workmanship. It does not cover the following:

1.Period Checks, maintenance, repair and replacement of parts due to normal wear and tear, corrosion, rust, stains, scratches, dents on the body or casing or paintwork of the appliance.

2.Damage or malfunction caused by improper or incorrect installation, poor or inadequate maintenance, or use or operation of the appliance otherwise than in accordance with the manufacturer's instructions.

3.Damage or malfunction caused by the act or acts of any person or persons intentional or otherwise, including but not limited to misuse or mishandling, fire or any natural disasters.

4.Un-authorized modifications carried out for the product to comply with local or national technical standards in countries for which the LG product was not originally designed.

5.Any Damage caused by excessive use, overcharging or failure to use in accordance with the specific instructions of care outlined in the product manual.

6.Defects or fault in appliances which have been used for commercial purposes or which have been rented/ leased or which have been otherwise subject to other than household use.

7.The model, serial/IMEI No. and product number on the product has been altered, deleted, removed or made illegible.

8.Tampering of appliance or undergoing repair, adjustment or servicing by persons other than those authorized by LG Electronics.

9.Any damage to property arising or in connection with the use of appliance or any malfunction or defect in the appliance.

10. LG recommends that separate permanent written records be kept of all important data. Data may be lost or altered in virtually any electronic memory product under certain circumstances. Therefore, LG assumes no responsibility for data lost rendered unusable whether as a result of improper use, repairs, defects, battery replacement, use after the specified battery life has expired, or any other cause.

11. This 2 years warranty does not cover ,accessories, computer accessories, like ( Brackets, HDD, USB, DVD-BD writers, Glasses )

 

 

HISENSE:

All Hisense products comes with a one (1) year warranty from the date of purchase. And warranties are limited to the country of purchase.

 

Warranty Terms and Conditions

A. What your warranty covers:

1.Proof of purchase is required before you can make a claim under this warranty; you must provide both your original purchase receipt and your warranty card to obtain full benefits.

2.The product bought from Hisense Registered Distributors (Alabamart). shall have a one ( 1) years warranty from the date of purchase.


B. What your warranty does not cover:

1.If being used for commercial purpose as hiring of the equipment

2.You may not make a claim under this warranty unless the defect claimed is due to faulty or defective parts or workmanship error. Notice of the alleged defects must be given promptly upon discovery. Hisense is not liable in the following situations:

(a) The Appliance is damaged by:

1.Accident

2.Misuse or abuse, including failure to properly maintain or service

3.Normal wear and tear

4.Power surges, electrical storm damage or incorrect power supply

5. Incomplete or improper installation

6.Incorrect, improper or inappropriate operation

7.Natural calamities such as fire,lighting,flood,rain etc....

(b)The Appliance is modified without authority Hisense Authorized Distributors . in writing.

(c)The Appliance serial number or warranty seal has been removed or defaced.

(d) The Appliance has been serviced or repaired by anyone other than Hisense. or its Authorized Services Centers.

3.Physical damage to the unit during transit from the store, after purchase of the product (i.e. Out of the physical place of purchase).

4.The relocation or reinstallation and set up of the product.

5.Gas charging for Air conditioners and Refrigerators.

6.Damage to the unit due to insufficient, unsuitable or inadequate packaging or care.

7.The travelling and transport costs; if the product is situated outside cities that service center is available.

8.If the warranty card is altered, defaced or erased in any manner whatsoever.

9.. Filter cleaning Service for Air Conditioners.

 



MAXI:

 

 

All Maxi products comes with a one (1) year warranty from the date of purchase. And warranties are limited to the country of purchase.

Warranty Terms and Conditions

A. What your warranty covers:


1. Proof of purchase is required before you can make a claim under this warranty; you must provide both your original purchase receipt and your warranty card to obtain full benefits.

2.All Maxi products bought from Maxi Authorized Distributors (Alabamart) are under 1 year warranty, except maxi generator and maxi remote under 3 months warranty .

3. Warranty will cover repair related to products defect only, there shall be no product replacement

B. What your warranty does not cover:

1. If being used for commercial purpose as hiring of the equipment

2. You may not make a claim under this warranty unless the detect claim is due to faulty or defective parts or workmanship error. Notice of the alleged defects must be given Promptly upon discovery. Maxi Authorized Distributors (Alabamart). is not liable in the following situations;

(a) The Appliance is damaged by:

1. Accident

2. Misuse or abuse, including failure to properly maintain or service

3. Normal wear and tear

4. Power surges, electrical storm damage or incorrect power supply

5. Incomplete or improper installation

6. Incorrect, improper or inappropriate operation

7. Natural calamities such as fire, lighting, flood, rain etc.

(b) The Appliance is modified without authority from Maxi Authorized Distributors (Alabamart). in writing.

(c) The Appliance serial number or warranty seal has been removed or defaced.

(d) The Appliance has been serviced or repaired by anyone other than its Authorized Services Centers.

3. Physical damage to the unit during transmit from the store, after purchase of the product (i.e. Out of the physical place of purchase).

4. The relocation or re-installation and setup of the product.

5. Damage to the unit due to insufficient, unsuitable or inadequate packaging or care.

6. The travelling and transport costs; if the product is situated outside cities that service center is available.

7. If the warranty card is altered, defaced or erased in any manner whatsoever.

 

 

 Scanfrost:

 

 

All Scanfrost products comes with 1 - 10 year warranty depending on the product category and from the date of purchase. All warranties are limited to the country of purchase.

 

Warranty Terms and Conditions

 

What your warranty covers:

 

1.Proof of purchase is required before you can make a claim under this warranty; you must provide both your original purchase receipt and your warranty card to obtain full benefits.

 

2.The product was bought from Scanfrost Registered Distributors (Alabamart). shall have:

a 1-year warranty for small appliances and water dispensers

2 years warranty for Tv, cookers and washing machine 

3 years warranty for freezers

5 years warranty for Air conditioners and a 10 years warranty for inverter freezers

 

What your warranty does not cover:

 

1.If being used for commercial purpose as hiring of the equipment

 

2.You may not make a claim under this warranty unless the defect claimed is due to faulty or defective parts or workmanship error. Notice of the alleged defects must be given promptly upon discovery. Scanfrost is not liable in the following situations:

 

(a) The Appliance is damaged by:

 

1.Accident

 

2.Misuse or abuse, including failure to properly maintain or service

 

3.Normal wear and tear

 

4.Power surges, electrical storm damage or incorrect power supply

 

5.Incomplete or improper installation

 

6.Incorrect, improper or inappropriate operation

 

7.Natural calamities such as fire, lighting, flood, rain etc....

 

(b)The Appliance is modified without Scanfrost Authorized Distributors in writing.

 

(c)The Appliance serial number or warranty seal has been removed or defaced.

 

(d) The Appliance has been serviced or repaired by anyone other than Scanfrost. or its Authorized Services Centers.

 

3.Physical damage to the unit during transit from the store, after purchase of the product (i.e. Out of the physical place of purchase).

 

4.The relocation or reinstallation and setup of the product.

 

5.Gas charging for Air conditioners and Refrigerators.

 

6.Damage to the unit due to insufficient, unsuitable or inadequate packaging or care.

 

7.The traveling and transport costs; if the product is situated outside cities that service center is available.

 

8.If the warranty card is altered, defaced or erased in any manner whatsoever.

 

9.. Filter cleaning Service for Air Conditioners.

Last Updated 20th February 2023
Shipping Policy

We ship items out as soon as possible, matter of fact if you can confirm your payment before 12pm on any working day in the following Cities, Lagos Mainland, Lagos Island, Abuja, Kano, Asaba, Jos, Ibadan, port Harcourt, Benin, Warri, Kaduna, Uyo Chances are that you will receive Same day 🚛  and this is why our Customers Love us.

However, we do have our Slow days so Please allow 2-3 business days for processing time. 

If you have any questions about the lead time on a specific item, please contact us at info@Alabamart.com with your questions.

You should receive an email confirming your order shortly after you've placed it. 

If you don't receive that email, please check your spam folder and see if you can locate it. 

This is especially important because if you haven't received the order confirmation email, you also won't receive the email with your shipment notification.

Alabamart ships to your Doorstep Nationwide. Please note that you, the buyer, are NOT responsible for any VAT, tariff, duty, taxes, handling fees, etc.

All orders made from Alabamart Store should be signed upon delivery, therefore please plan accordingly.

Alabamart Nigeria Limited will be closed on public holidays and Sundays. Orders will not be shipped on those days, but you can still order through the website as usual.

 

LATEST UPDATE: DECEMBER 12th, 2022
Return & Refund Policy

 

Thanks for shopping at Alabamart.com

If you are not entirely satisfied with your purchase, we're here to help.

 

Returns:

You have to check the item before signing the delivery note.
You have 24 hours to return an item from the date you received it.
To be eligible for a return, your item must be unused and in the same condition that you received it.
Your item must be in the original packaging and in re-saleable condition.
Your item needs to have the receipt or proof of purchase.
You will be responsible for paying for your own shipping costs for returning your item. Shipping costs are non refundable. you will be responsible for delivering the items to the pick up point, the pickup point will be determined by Alabamart Nigeria Limited.

Alabamart Nigeria Limited will not initiate refund/replacement for:

Any product that exhibits physical damage to the box, packaging, tags or to the product.
Any product that is returned without all original packaging and accessories, including the retail box, manuals, cables, and all other items originally included with the product at the time of delivery.
Any product without a valid, readable, untampered serial number, including but not limited to products with missing, damaged, altered, or otherwise unreadable serial number.
If you receive a refund, the cost of return shipping will be deducted from your refund.

How do I return my order?

Kindly send a request to info@alabamart.com. After confirming your return request, Our team will respond to your request and guide you to the next pickup point.

Once we receive your item, we will inspect it, and If your return is approved, we will initiate a refund to your account.

 

Cancellation Policy

 

You can only cancel your order when the order is still in processing status. Only cancellation request made by the means of sending a request to info@Alabamart.com be acknowledged. We do not acknowledge any cancellation requests by other means, i.e. through call.

 

LATEST UPDATE: DECEMBER 12th, 2022

 
LG 4K SELF-LIT OLED for infinite contrast & 100% colour fidelity
Advanced α9 Gen4 AI processor 4K for ultimate picture & sound
Exceptional cinema & sport with Dolby Vision IQ and Dolby Atmos
Powerful gaming with HDMI 2.1, VRR, HFR, Game Optimiser
Low blue light & flicker free for less eye fatigue and safer viewing
Specifications:
| | |
| --- | --- |
| Screen Size | 65 |
| Resolution | 3840 X 2160 |
| Display Type | 4K OLED |
| Dimming | Pixel Dimming |
| Wide Color Gamut | Perfect Color |
| Processor | Α9 Gen4 AI Processor 4K |
| Image Enhancing | Image Enhacing On SQM |
| HDR10 Pro (RF/HDMI/CP/USB) | Yes/Yes/Yes/Yes (4K/2K) |
| Dolby Vision IQ (HDMI/CP/USB) | Yes/Yes/Yes (4K/2K) |
| HDMI | 1 (Rear)/3 (Side) |
| USB | 2 (Rear)/1 (Side) |
The images used in the product overview below are for representative purposes. Refer to the image gallery at the top of the page for an accurate representation.

*The CES Innovation Awards are based upon descriptive materials submitted to the judges. CTA did not verify the accuracy of any submission or of any claims made and did not test the item to which the award was given.
Award Winning
Recognized by
Worldwide Experts
"LG C1 offers the best blend of price and performance."
-LG 65C1, TechRadar, 04/2021

"Still the OLED TV to buy in 2021."
-LG 65C1, T3, 04/2021

"A fabulously punchy and detailed picture…"
-LG 65C1, What Hi-Fi?, 04/2021
"CES® Innovation Awards are granted to products based upon materials submitted by the honorees.
CTA neither verifies the accuracy of any submissions nor tests any products."
LIGHT UP YOUR WORLD with SELF-LIT PiXELS
LG OLED TV is a joy to behold. Self-lit pixels allow truly spectacular picture quality and a whole host of design possibilities, while the latest cutting-edge technologies help deliver unprecedented levels of wonder. This is everything you love about TV — elevated in every way.
What makes OLED unlike anything else?
The answer is self-lit pixels. A self-luminous display technology that makes all the difference to your viewing experience. Unlike LED TVs that are restricted by backlight technology, LG OLED TVs are capable of extreme realism and unique designs.
*Screen images simulated.
SELF-LIT PiXELS.
100 million reasons to love OLED.
When it comes to picture quality, OLED beats LED hands down. That's because OLED has millions of self-lit pixels capable of producing perfect black and accurate color. The result is a viewing experience like no other.
Infinite Contrast
OLED puts LED in the shade.
Put simply, OLED has millions of self-lit pixels that can turn on and off to achieve perfect black and infinite contrast. That black is better than both mini-LED and LED TVs. So it doesn't matter how many thousands of backlights they have, LED TVs will still be in OLED's shadow.
100% Color Fidelity
OLED passes with flying colors.
Global testing agency Intertek has confirmed that LG OLED displays have 100% color fidelity. This means that the colors you see on the screen closely match the colors of the original image. So everything you watch looks as the creator intended.
*Color fidelity determines whether a display's color accuracy is Delta E ≦2 across 125 color samples.
**83-inch LG OLED panel will be certified in the first half of 2021.
100% Color Volume
A dazzling display of color.
LG OLED TVs achieve full Color Volume thanks to the excellent color reproduction technology of LG TVs. With 100% Color Volume, LG OLED can express 100% of the DCI-P3 spectrum across a 3D color space that covers the TV's full luminance range. This means that colors remain vivid and lifelike with full saturation no matter how bright or dark the display.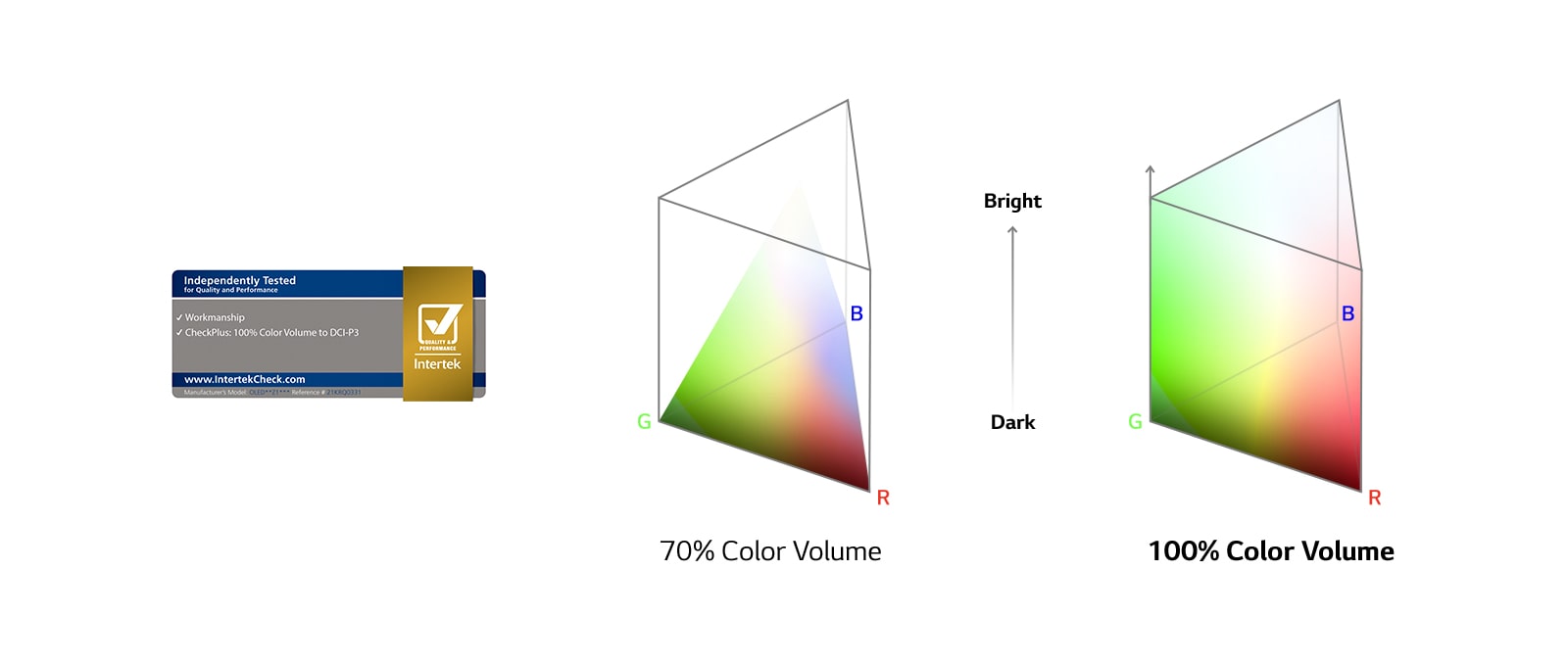 *Display Color Gamut Volume (CGV) is equivalent or exceeds the CGV of the DCI-P3 color space as verified independently by Intertek.
*70% Color Volume refers to LG's UHD TVs.
*Images simulated to enhance feature understanding.
OLED Cinema.
The award for best picture goes to…
LG OLED TV produces an award-worthy performance every time you watch thanks to its incredibly sharp picture. And with perfect black and 100% color fidelity, movies are seen how they're meant to be seen.
*Disney+ subscription required.
Entertainment
Home to all your favorites.
Access the Apple TV app and Netflix. Choose From the latest movies, TV shows, documentaries, and live sports, and find them all in one place.
*Netflix streaming membership required.
**Apple, the Apple logo, and Apple TV are trademarks of Apple Inc,
Registered in the U.S. and other countries.
****Supported service may differ by country.
Dolby Vision IQ & Dolby Atmos
A transformative TV experience.
Dolby Vision IQ intelligently adjusts picture settings based on content genre and ambient surroundings, while Dolby Atmos delivers multi-dimensional surround sound — a powerful combination that produces breathtakingly cinematic results.
*Screen images simulated.
FILMMAKER MODE™
The director's vision brought to life.
FILMMAKER MODE™ turns off motion smoothing while preserving the original aspect ratios, colors, and frame rates. This accurately delivers the director's original vision, so you experience the film the way they intended.
HDR 10 Pro
Get the full range of enjoyment.
LG's own dynamic range technology, HDR 10 Pro, adjusts brightness to enhance color, reveal every tiny detail, and bring lifelike clarity to every image — it also intensifies regular HDR content. Now all your favorite movies and shows will be more vivid and vibrant from beginning to end.
OLED Gaming.
It's game over for the competition.
LG OLED TV puts you ahead of the game with swift response, the latest gaming features, and a 120Hz display for a smoother playing experience. This is the ultimate TV for your gaming setup.
Partnerships with
Game Industry Leaders
An unbeatable combo.
LG continues to work with industry-leading companies to ensure you get the best possible gaming experience. We partnered with NVIDIA and AMD to make LG OLED TV the only G-SYNC and AMD FreeSync™ Premium certified TV. We also teamed up with AMD FreeSync. And on top of that, we joined forces with Xbox to unleash the full potential of next-gen gaming, becoming the official TV partner of the Xbox Series X console. Combine all this with the stunning picture quality and ultra-fast response times of OLED and you're guaranteed to get the most out of gaming every time you play.
The Latest Gaming Specs
Play at the highest standard.
LG OLED TVs are capable of a 1ms response time, while support for VRR, ALLM, and eARC meets the latest HDMI 2.1 specifications. These features allow fast-moving content in higher resolution and smooth, synchronized graphics to give you a more lifelike experience and a better chance of winning. Additionally, OLED C1 and G1 are now the world's first TVs to support the incredible Dolby Vision® HDR at 4K 120Hz for gaming, enhancing the playing experience to previously unseen levels.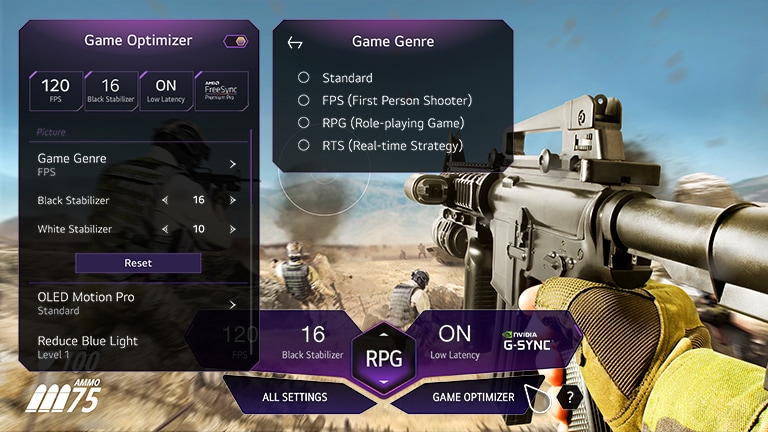 Game Setting Controls
Complete and convenient control over game settings.
Game Optimizer provides optimized settings for various game genres including FPS, RPG, and RTS. You can access everything in one place for greater control over picture and sound. And toggle VRR, NVIDIA G-SYNC, and AMD FreeSync™ technologies. The new Game Dashboard is a simplified menu that lets you quickly check or make adjustments to certain game settings on the fly — all during gameplay. While the dashboard is open, you can go back to the optimizer to access more settings or change the color of the gaming style head up display.
*Availability of software updates may vary depending on model and region.
**The service will be available from the second half of the year.
***NVIDIA G-SYNC and AMD FreeSync™ Premium are only supported on Z1, G1, C1, and B1 models.
OLED Sport.
TV in a league of its own.
LG OLED TV shows every play in all its realistic glory. Fast sporting action with smooth motion means being a spectator has never been so spectacular — you've now got a front row seat to all the best sporting events.
OLED Motion Pro
You've never seen movement like this.
Advanced motion handling technology reduces motion blur to deliver smoother action and a clearer viewing experience. Witness the quick and subtle detail of every play even during fast-paced sport.
*Screen images simulated.
Sports Alert
Never miss your team play.
Sports Alert notifies you before, during, and after games. You'll never have to worry about missing the big plays from your favorite teams, even when you're watching other content.
*Usage may vary by country.
Bluetooth Surround Ready
A clear home advantage.
Easily connect Bluetooth speakers for a true wireless surround sound experience. All the action sounds richer and more realistic, bringing the big-game atmosphere to your living room.
*Speakers sold separately.
OLED Design.
Innovation of unbelievable proportions.
LG OLED TVs redefine what TVs should look like. Their unbelievably slim designs take your breath away — they not only complement your home interior, they enhance it.
Choose Your Style
More sizes, more colors,
more wow.
The artistry of LG OLED TV C1 is available in five sizes ranging from 48-inches to a massive 83-inches. You can also now get it in a Meteor Titan or Vanilla White finish.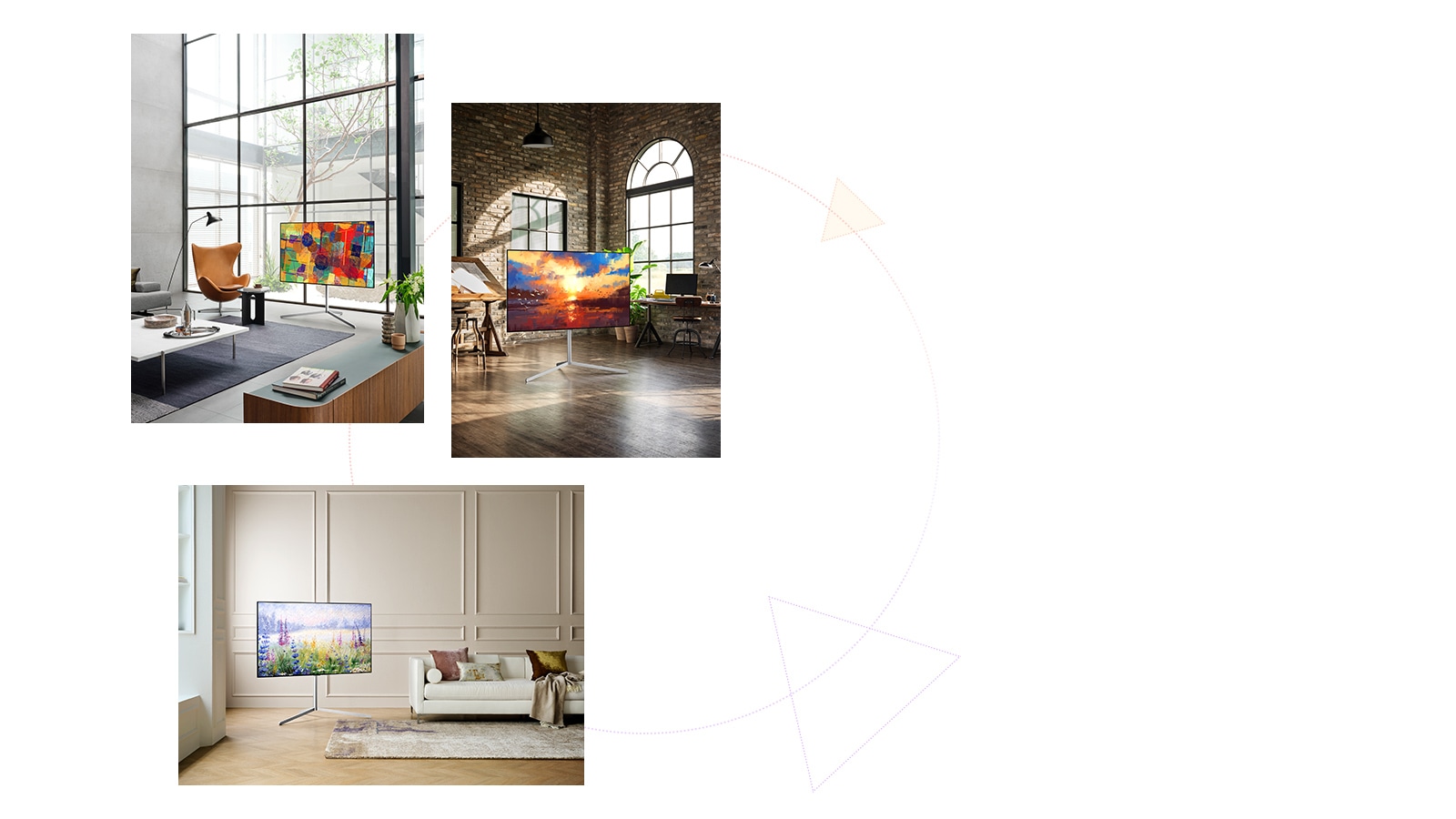 Gallery Stand
Designed to stand out.
Picturesque works of art aren't just for walls anymore. The Gallery Stand gives you the freedom to place your TV out in the open and turn your home into a gallery.
*Gallery stand sold separatey.
α9 Gen4 AI Processor 4K
Brains that will blow your mind.
At the core of every LG OLED TV is the α9 Gen4 AI Processor 4K, a groundbreaking chip that uses deep-learning algorithms to analyze and optimize content. Every adjustment to picture and sound is automatic, so everything you watch is spectacular.
*Screen images simulated.
AI Picture Pro
This is what pro looks like.
Using a vast database of over one million visual data points, the deep-learning algorithm recognizes content, removes noise, and optimizes picture quality. And the new Scene Detection feature can now analyze the type of scene being shown and improve the picture accordingly.
*AI Picture Pro will not work with any copyright-protected content on OTT services.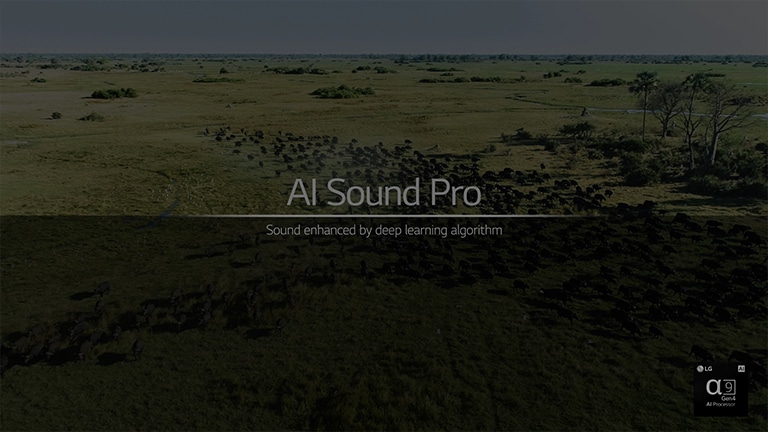 AI Sound Pro
Sound turned up to pro.
By learning from more than 17 million audio data points, the processor identifies voices, effects, and frequencies so it can then optimize the sound by genre for a more immersive experience. And the new Auto Volume Leveling feature maintains consistent voice levels across different types of content.
LG OLED.
We care about the bigger picture.
LG OLED TVs are safer for you and the environment than LED TVs. Because our TVs use self-lit pixels, it's more comfortable for your eyes when you watch for long periods. LG OLED panels have also been recognized as eco-friendly with reduced risk of hazardous emissions.
Eye Comfort
Watch in comfort for longer.
If you worry about you and your family's eyes, LG OLED TVs provide a more comfortable way to watch for longer. They've been certified as low-blue light, flicker-free, and discomfort glare-free displays by international agencies TÜV Rheinland (TUV) and Underwriter Laboratories (UL). LG OLED TVs are also the first panels from any kind of TV to receive the Eyesafe® certification developed by TUV-Eyesafe®.

*LG OLED TV sets, except LG OLED R, have been certified as low-blue light displays by TUV-Eyesafe®.
*LG OLED TV panels have been certified as flicker-free and discomfort glare free by UL.
Caring is in our nature.
LG OLED TVs are officially kinder to the planet. When compared with LED TVs, they're safer because they don't use backlights, they're made with less plastic, use fewer hazardous materials, and have a lower risk of producing indoor air pollutants.

*LG OLED TV sets and panels have received Eco-Product certifications from SGS.
**Only C1 and G1 models are currently certified.
***Z1, B1, and C1 models will be certified at a later date.
AI ThinQ
Think you know smart?
Think again.
LG ThinQ is here to maximize your TV experience. Choose your favorite voice assistant and control your TV with your voice with an all new home screen to provide more convenience and control.
New Home
Welcome to your new home.
The newly designed home screen shows personalized content suggestions, gives you easier access to favorites, and lets you control connected devices all in one place.
New Magic Remote
More like a magic wand.
The redesigned Magic Remote has an ergonomic design that's easy to hold, and its point and scroll system allows faster searching. Built-in AI provides easy access to services, while hotkeys for major content providers give you shortcuts to all your favorites. In addition to all that you now have Magic Tap, a clever new trick that connects your phone to your TV.
*NFC support may differ by model.
Voice Command
Your central hub of convenience.
LG ThinQ allows simple command and control of your Home IoT ecosystem with natural voice recognition*.
**Supported menus and apps may vary by country.
***Menus displayed may be different upon release.
****Voice Command availability may vary by products and countries.
Virtually place
true-to-scale TVs.
*LG TV & Audio AR Experience is available for download on the App Store and Google Play.
Virtually preview life-size
Space & TVs.
*This product does not include an antenna or the cables to connect an antenna or external devices.
Expand to find the right TV for you.
oled-buying-guide
 
G1
C1

Features

Our Greatest 4K OLED TV

Our Most Chosen OLED TV

Display
4K (3840x2160) 77 / 65 / 55"
4K (3840x2160) 83 / 77 / 65 / 55 / 48"
Audio
4.2ch / 60W
2.2ch / 40W
Stand
Wall-mount , Stand optional
Stand
Processor
α9 Gen4 AI Processor 4K
α9 Gen4 AI Processor 4K
Processing
AI Picture Pro, AI Sound Pro
AI Picture Pro, AI Sound Pro
Color
100% Color Fidelity / Color Volume
100% Color Fidelity / Color Volume
Eye Comfort
Low-blue light, Flicker-free
Low-blue light, Flicker-free
HDR
Dolby Vision IQ / HDR10 Pro / HLG
Dolby Vision IQ / HDR10 Pro / HLG
Bandwidth
4 x HDMI 2.1*, 4K 120P
4 x HDMI 2.1*, 4K 120P
HDMI features
ALLM/eARC
ALLM/eARC
VRR
VRR / NVIDIA G-Sync/FreeSync
VRR / NVIDIA G-Sync/FreeSync
Gaming
Game optimizer/Dashboard / HGiG
Game optimizer/Dashboard / HGiG
Smart
Google Assistant, Alexa, Airplay
Google Assistant, Alexa, Airplay
Voice Control
Hands-free Voice Control
Remote
Platform
webOS 6.0, Magic Tap
webOS 6.0, Magic Tap
 
WHERE TO BUY
WHERE TO BUY
*Magic Tap feature may differ by region or country.
**HDMI 2.1, HDMI 2.0 Bandwidth Ports.
DISPLAY
Type

4K OLED

Screen Size

65

Resolution

3840 x 2160

Wide Viewing Angle

Yes

Color / Wide Color Gamut

Perfect Color

Color display bits / Billion Rich Colors

Yes

Contrast / Perfect Black

Perfect Black

Contrast / Dimming

Pixel Dimming

Contrast / Ultra Luminance

Ultra Luminance Pro

Motion / Refresh Rate

Refresh Rate 100Hz
PLATFORM
Main Processor (SoC)

α9 Gen4 AI Processor 4K (O20)

Operating System (OS)

webOS Smart TV

Number of CPUs

Quad
VIDEO AND PICTURE QUALITY
AI Picture / Pro

AI Picture Pro

Face Enhancing + Body/Object (8K Only)

AI Picture Pro - Face Enhancing

AI Upscaling

AI Upscaling

Auto Genre Selection

Yes (SDR/HDR/Dolby HDR)

Image Enhancing

Image Enhancing on SQM

AI Brightness Control

Yes

HDR

Cinema HDR

Dolby Vision IQ (HDMI/CP/USB)

Yes/Yes/Yes (4K/2K)

HDR10 Pro (RF/HDMI/CP/USB)

Yes/Yes/Yes/Yes (4K/2K)

HLG (RF/HDMI/CP/USB)

Yes/Yes/Yes/Yes (4K/2K)

FILMMAKER MODE™

Yes

Dynamic Tone Mapping / Pro (+ AI HDR Tone Mapping)

HDR Dynamic Tone Mapping Pro
(+ AI HDR Tone Mapping)

4K HFR (HDMI/USB)

Yes/Yes

2K HFR (HDMI/USB)

Yes/Yes

Motion Pro

OLED Motion Pro

Upscaler

4K Upscaler

HEVC

4K@120p, 10bit

AV1 (Video Decoder)

4K@60p, 10bit

VP9 (Video Decoder)

4K@60p, 10bit

FreeSync Compatible

Yes

G-Sync Compatible

Yes

HGIG Mode

Yes

Instant Game Response (VRR/ALLM)

Yes/Yes

Picture Mode

Yes 9 modes
(Vivid, Standard, Eco, Cinema, Sports, Game, Filmmaker, (ISF)Expert(Bright Room), (ISF)Expert(Dark Room))
AUDIO AND SOUND QUALITY
Speaker (Sound Output)

40W
(WF:20W, 10W per Channel)

Channel

2.2 ch

Direction

Front Firing

Simultaneous Audio Output

Yes
(Optical Output or HP Support Model)

DOLBY ATMOS

Yes

AI Sound / Pro

AI Sound Pro

AI Acoustic Tuning

Yes

Surround mode => 21Y Spec Out

OLED Surround

Clear Voice

Clear Voice Pro

Bluetooth Surround Ready

Yes

WiSA Speakers

Yes
(WiSA 2.1ch)

LG Sound Sync

Yes

Sound Share

Yes

Audio Codec

AC4, AC3(Dolby Digital), EAC3, HE-AAC, AAC, MP2, MP3, PCM, WMA, apt-X (Refer to manual)

Sound Mode Sync

Yes

Sound Alive

Yes
AI SMART FUNCTION
ThinQ

Yes

Intelligent Voice Recognition

Yes

Speech to Text

Yes

LG Voice Search

Yes

AI UX

Yes

AI Home

Yes

AI Recommendation

Yes

Intelligent Edit

Yes

Home Dashboard

Yes

Apple Homekit

Yes

Mobile Connectivity

Yes

Screen Share

Yes

ThinQ App

Yes

Airplay2

Yes

Next Picks (AI Channel)

Yes

Magic Explorer (AI Link)

Yes

Magic Remote Control

Built-In

Quick Access

Yes

Universal Control

Yes

360° VR Play

Yes

Related Content Search

Yes

Art Gallery

Yes

LG Store

Yes

DIAL

Yes

Web Browser

Yes

Music Player -> Media Player

Yes

TV On With Mobile

Yes

Wi-Fi TV On

Yes

Bluetooth Low Energy On

Yes

Network File Browser

Yes

Block access to harmful site

Yes

Hotel Mode

Yes

Sports Alert

Yes

Music Discovery

Yes
BROADCASTING
Digital TV Reception(Terrestrial,Cable,Satellite)

Yes

Terrestrial

DVB-T2

Cable

DVB-C

Satellite

DVB-S2

Analog TV Reception

Yes

Teletext Page

Yes

Teletext (Top/Flof/List)

Yes

[DVB] Subtitle

Yes

AD (Audio Description)

Yes

EPG (8days)

Yes
CONNECTIVITY
HDMI

1 (Rear)/3 (Side)

Simplink (HDMI CEC)

Yes

eARC / ARC (Audio Return Channel)

eARC (HDMI 2)

USB

2 (Rear)/1 (Side)

LAN

Yes (Rear)

RF In

2 (Rear, RF/Sat)

SPDIF (Optical Digital Audio Out)

Yes (Rear)

Headphone Out

Yes (Rear)

Line out

Yes (Rear, Headphone out common)

Wifi

Yes (802.11ac)

Bluetooth

Yes (V5.0)
POWER & GREEN
Power Supply

AC 100~240V 50-60Hz

Standby Power Consumption

Under 0.5W

Energy saving Mode

Yes

Illuminance Green sensor

Yes

Energy Standard

Yes

ENERGY STAR® Qualified

Differ by region

Estimated Annual Operating Cost

Differ by region

Estimated Annual Electricity Use

Differ by region
ACCESSORY
Remote

MR21N

Battereis

Yes (AA x 2EA)

Power Cable

Yes (TV Attached)
ADDITIONAL FEATURE
Auto Calibration

Yes

Time Machine (DVR)

Yes

Digital Recording

Yes

Analog DVR

Yes

Time Shift

Yes
Share
View full details
Alabamart Express | Receiver Order Faster!

Enjoy Free Shipping on Alabamart as well as Express shipping services to match your needs.

Shipping Policy

Aftersales & Installation

We Offer Aftersales and Installations for Air Conditioners (Commercial, Industrial & Private), Televisions, Washing Machines, Furnitures Cookers and Lots of other things.
Alabamart Customers are Happy Customers ! 👇🏽 👇🏽
Enjoy the Good Lifestyle on Alabamart.
No #1 Home & Kitchen Appliances Online Store in Nigeria with Amazing Discounts on Quality & Affordable Appliances, We offer Installation Services and Product Warranty on all products.